Here is a video for all of 2012 made from the national composite radar and infrared satellite images for the contiguous 48 states. The inputs and their interpretation are identical to what I've made and posted about the previous two years, so I'm not going to repeat those details here again. Except for this quick review:
The two smaller images on the right are of the same thing — infrared images that indicate temperature. The top one is a color-enhanced version of the lower; the colors used in the top do not necessarily indicate storms, but high, cold cloudtops that can be associated with storms and other weather events; the infrared representation in the bottom looks like clouds, and is closely associated with clouds, but it fails to show low, warmer clouds; and the daily pulsing in the top and bottom insets are due to the ground heating during the day and cooling at night. The main radar image uses a simple noise-reduction method that will remove some light preciptiation but leaves the interesting bits; the diurnal flashing around the radar sites is due to ground clutter that atmospheric conditions can exacerbate ovenight in certain seasons. See the previous articles for details.
The URL from which I get the black-and-white infaredimages changed in June, which I did not notice until August, so the better part of two months went missing. Fortunately I had also been collecting black-and-white infrared images from another source that I composited with the radar images. I used those to fill in the gap. So for a spell in the summer months the size and presentation changes, but the show goes on. I could not use those for the whole video because I hadn't started generating them until April, and there is a gap in their production for a few weeks later in the year. There's also the issue with the satellite images, the western one in paticular, being unreliable at times. That causes really annoying results, as can be seen in another video made from just those images.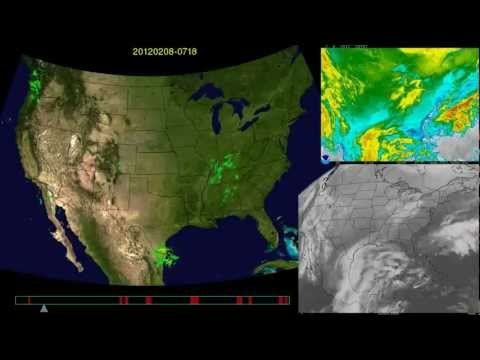 Below are some nitty-gritty details of how I generated this video.